Attention Rotator​ Cuff​ Sufferers! Free Rotator​ Cuff​ Workshop
"New​ Rotator​ Cuff​ Workshop​ Reveals​ How​ to​ Get​ Back​ to​ Normal​ Without​ Medications, Injections​ and​ Surgery..."
Wednesday, Jul 10th
6:00 PM
1933 Coffee Road Modesto, CA 95355
Enter Your Info Below To Register For The Workshop

We value your privacy and would never spam you
Go​ to​ the​ Rotator​ Cuff​ ​ Workshop​ and​ Learn:
1

The​ Single​ Worst​ Position​ to​ Sleep​ ​ in​ That​ Causes​ BIG​ Problems​ in​ the​ Shoulder​ and Rotator​ Cuff...

2

The​ #1​ Biggest​ Mistake​ People​ Suffering​ with​ Shoulder​ Pain​ Make​ Which​ Surprisingly Can​ Lead​ to Rotator​ Cuff​ ​ Surgery...

3

The​ Common​ Causes​ of​ Rotator​ Cuff​ Problems...

4

The​ Top​ 3 Exercises​ for​ the​ Rotator​ Cuff...
Who​ is​ the​ Workshop​ For?
The​ Rotator​ Cuff​ Workshop​ is​ for​ people​ suffering​ with​ shoulder​ pain​ who​ are​ looking​ to​ feel normal​ again​ and​ heal​ naturally​ without​ medications,​ injections​ and​ surgery.
Do​ you​ have​ shoulder​ ​pain​ when​ you:
1

2

3

Reach​ behind​ your​ back?

4

5

Reach​ into​ the​ back​ seat?

6

Do​ work​ around​ the​ house​ or​ yard?

7
Enter Your Info Below To Register For The Workshop

We value your privacy and would never spam you
If​ you​ do​ AND​ you're​ looking​ for​ Natural,​ Non-Invasive​ Treatment,​ then​ Save​ Your​ Spot​ for​ the Rotator​ Cuff​ Workshop​ by​ filling​ in​ your​ name​ and​ information.

***Because​ ​of​ space​ limitations,​ the​ Rotator​ Cuff​ Workshop​ is​ limited​ to​ the​ first​ 20 Registrants...
What Do Others Have To Say About The Rotator Cuff Workshop?
"I had a special situation where I live in Denver and was out here in Modesto for work. From before I even got to Modesto I had to set up the scheduling for my therapy and, Monica and Irene were Awesome in helping me do this. It was not an easy task coming from Denver and having to schedule therapy especially with my work schedule. From my first appointment to 19 appointments and 25 hours of therapy and training I am feeling great. I am in excellent condition and ready to return to my physical job. The whole team is great, very professional, knowledgeable, helpful, and it felt like I was around family all the time. They made an unfortunate situation very pleasant. I've observed how they worked with multiple patients with different injuries, age groups, and abilities. 5 Star treatment, Thank you!"
Jeremy B.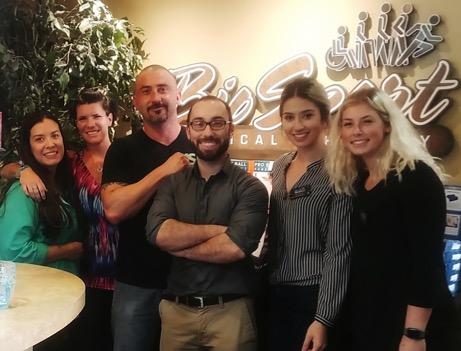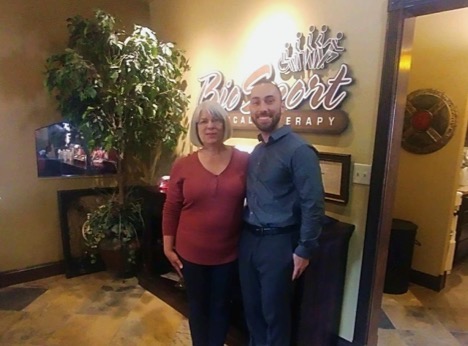 I've never had physical therapy before and was not too thrilled when my primary care doctor referred me to physical therapy at BioSport. I had pulled a shoulder muscle 5 weeks earlier and it seemed to not make any progress with healing. The discomfort went form my shoulder up my neck and across my collar bone. After just 3 appointments I have so much relief and can comfortably resume normal activities. The office staff is so friendly and helpful. The therapists are so good with explaining exercises and equipment and are very encouraging. Dr. Alex answered all my questions and explained my particular issues. He's been very generous in suggesting exercises to do outside of therapy and they have made such a difference in maintaining the flexibility and health of my shoulder I would highly recommend BioSport. Thank you!
Roxann H.
I injured my right shoulder getting ready for Track and Field. Because of the injury to my AC joint I was unable to perform basic functions like taking notes in class. I couldn't get dressed or perform chores at home without pain. Dr. Alex Stavrianoudakis worked with me for several weeks and now I'm pain free and can do everything I could do before the injury. The staff here is extremely knowledgeable and incredibly friendly. I am grateful for everything Alex and his staff has done for me! Thank you!
Andrew K.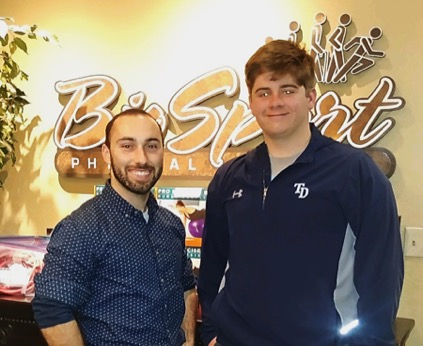 We have limited spots available and space will fill up fast, so register now to avoid missing out.